Welcome to our Lagganlia page! It is tradition here at Clermiston that our Primary 7s head off to Lagganlia, a residential outdoor learning centre by Aviemore. Here they are taught invaluable skills of friendship, team building, nature respecting and... bed making!
Led by a team of experienced and frankly brilliant instructors, our children come back to us having a variety of new skills that they can then transfer back to the classroom and into their daily lives.
We aim to post our journey here and over on twitter (@ClermistonPS) as best as we can but please go easy on us, as WiFi can be rather patchy up in the sticks! Enjoy your peaceful homes while they are away and we'll see you on Friday, no doubt with a big back of washing (lucky you!).
Travel sick bus dramas: 0
Teeth lost: 1
Beds made: 56
Starter: Corn on the cob
Main: Baked potatoes with cheese, beans, tuna or all three and lots of salads from the salad bar
We have arrived!
After a very uneventful journey (hooray!) we arrived at Lagganlia just in time for lunch. We spent a slightly soggy afternoon exploring the grounds around the centre, hunting for blaeberries (which make the perfect natural face paint), playing pooh sticks in the River Feshie and orienteering.
Bed making was a success of sorts. Flat sheets on top bunks are a challenge! After lots of negotiations over top bunk or bottom bunk everyone is now happily settled into their rooms. A wee bit of work required before the room inspections tomorrow....
We've lost our first wobbly tooth of the week, Ethan is keen to pass on a message to the tooth fairy to let them know! We're not sure if the tooth fairy will find us out here in the Cairngorms.
Melissa: "The highlight of the day was hiking to the River Feshie with our instructor and then playing pooh sticks."
Rory: "My most exciting part of the day was doing the adventure orienteering."
Lewis: "My favourite part of the day was arriving at Lagganlia. I thought it was a lot different to what I imagined. It's better than I thought."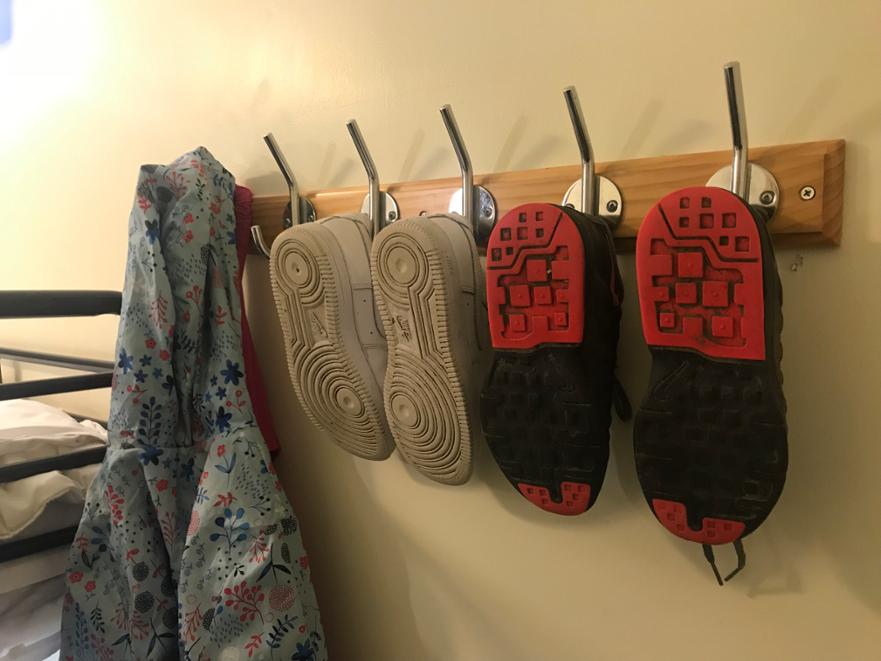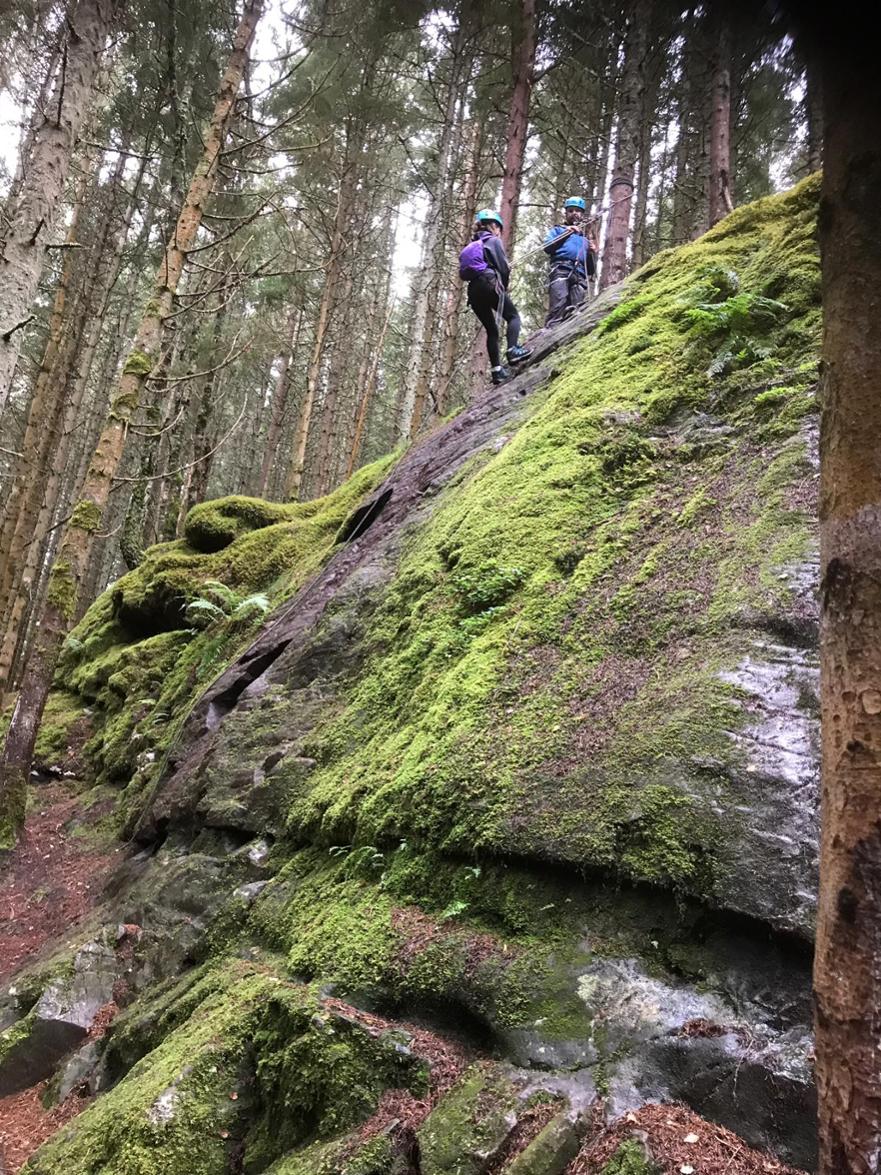 Ice lollies consumed: 56
Bike punctures: 0
Canoe paddles: 23
Shoes in the drying room: 70
Main: Beef chilli with rice or chickpea curry with rice
Pudding: Rocket ice lollies
It's been a brilliant first day of activities up in Lagganlia. It's looking like it might be the best weather of the week so lots of groups were away from camp adventuring all day. It was fairly warm and we only had a few passing showers. We had groups out gorge walking, mountain biking, canoeing, abseiling and even a group skiing.
Tonight pupils have been doing the nightline activity out in the woods. It was pitch black and they loved it. No spoilers though, you'll have to wait till they come back to find out the secrets of nightline!
We have lots of pupils (and staff...) looking forward to their beds tonight after the excitement of the first night kept some chatter-boxes up late and got some others up early!
Hayden, Calum and Lewis: are excited to report 6 hours of biking with their instructor. They covered 8.5 miles. They cycled through a big forest to find an abseiling rock where they were happily swung and lowered.
Brandon: "Gorge walking was so much fun. It's a big like parkour and jumping into a swimmming pool at the same time. At one point we jumped into a huge pool and stood under a waterfall which poured right over our heads."
Dylan: "We went abseiling and gorge walking. It was so good. I liked going through the deep pools when we went gorge walking."
Pushpa: "We went canoeing down the River Spey. We tied two boats together and had 2 canoe rafts. We had fun on the canoes. We got our shoes wet but didn't fall in. I thought the canoe was going to tip in the rapids at any time but it didn't."
Decibels reached during Drum Fun: 120dB x 56
Muddy soggy socks on bedroom floors: 102
Midgies: 17,362,391
Children up early: 0
Starter: tomato soup with rolls
Main: Mac and cheese or cottage pie, with lots of salad bar extras
Another adventurous day today! The weather forecast was meant to be terrible for this afternoon so all the groups made the most of the sunshine this morning. It didn't actually rain until the end of the day so we got lucky.
We had lots of groups skiing and snowboarding today which was a very popular activity! Many a midgie had a feast on the dry ski slope today.
We had one group on a mountain biking adventure all day today. Their highlight was a dip in the River Feshie on their way home. Fully clothed I should add!
The dampness and the midgies didn't stop some groups heading off to climbing and abseiling.
You can take Miss Huhtinen away from her food tech classes but she can't help but think about cooking! She's had her eyes on some huge chanterelle mushrooms after cycling past the other day. She came back from today's adventure with as much as she could fit in her bag before it burst! She's looking forward to cooking up a feast at home on Friday and the rest of us are hoping for some leftovers!
The highlight of the day for everyone surely has been a visit from Steve the Drummer. It takes a brave man to give out 56 drums to a room full of P7s! They've loved it though!
Eve: "In the abseilikng you have to really trust yourself. A few people fell then becuase it got slippy. Our instructor taught us how to get back up again. When we were climbing on the rocks someone was always behind us telling us where to put our feet or where to go."
Aiden: "We got soaking wet at gorge walking. I felt like I was going to fall at abseiling. It was amazing!"
Robert:"We've been gorge walking and abseiling. Gorge walking was funny, exciting and sometimes scary. Abseiling was scary, fun and exciting."